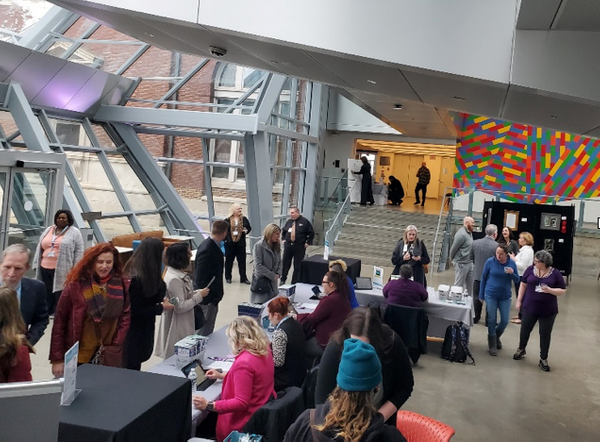 Art of Recovery
Art of Recovery 2023, presented by Klein's Pharmacy, returned to Akron Art Museum on March 14, celebrating the artistic expression of CSS clients and marking the most-successful Art of Recovery yet.
Throughout the evening, nearly 200 guests viewed and bid on the client-created works of art, enjoyed hors d'oeuvres, engaged with the artists, learned more about CSS, and participated in a community art project.
Barry and Ann Klein, owners of Klein's Pharmacy, were the event's honorary chairs. During the welcome portion of the evening, Barry thanked the sponsors who made the event such a financial success and expressed his and Ann's dedication to the event, which they have supported for years.
It was an exceptionally successful night for the artists; by the end of the night, 41 of the 45 pieces had sold – making it the bestselling Art of Recovery event for CSS client-artists. Seventy-five percent of the art sale proceeds went to the artists while the remaining 25% went to the CSS Expressive Arts Therapy program.
In addition, six of the 22 participating artists were honored for their works, as judged by two local artists.
Black Tiger Gridiron Club
On 2/25/2023, our Pharmacy team showed up to support The 16th annual Black Tiger Gridiron Alumni Club Dinner! We are happy to be a part of the Cuyahoga Falls community and give back to them. See their mission below:
The mission of The Black Tiger Gridiron Alumni Club is to unite former Cuyahoga Falls High School football players, managers, coaches, and those who support Cuyahoga Falls football to make a positive contribution to the young men in the football program. The members will join together to support the team and provide financial assistance for the football program and scholarship assistance for a senior football player, senior band member and senior cheerleader who plan to continue their education.
Parking Meters on Parade in Cuyahoga Falls
Each of our three pharmacies and our administration team participated in the Parking Meters on Parade located on Front Street between Broad Boulevard and Oakwood Drive in Downtown Cuyahoga Falls in December of 2022.
Voting categories include Best Decoration Overall; Best Decoration by a Downtown Business; Best Decoration by a Business Citywide; and Best Decoration by a Family, Community Organization, or School Group. Vote for your favorite meters below.
Best Decoration Overall
1st Place - Cuyahoga Falls Knit & Hook
2nd Place - The Phillips Family
3rd Place - Cuyahoga Falls High School Art Club & Cuyahoga Valley Art Center
Best Decoration by a Downtown Business
1st Place - Cuyahoga Falls High School Art Club & Cuyahoga Valley Art Center
2nd Place - Blush Photo
3rd Place - Cuyahoga Falls Library
Best Decoration by a Business Citywide
1st Place - Klein's Pharmacy Admin Team
2nd Place - Blush Photo
3rd Place - Cuyahoga Falls Library
Best by a Decoration by a Family, Individual, Community Organization, or School Group
1st Place - Cuyahoga Falls Knit & Hook
2nd Place - The Phillips Family
3rd Place - The Rance Family