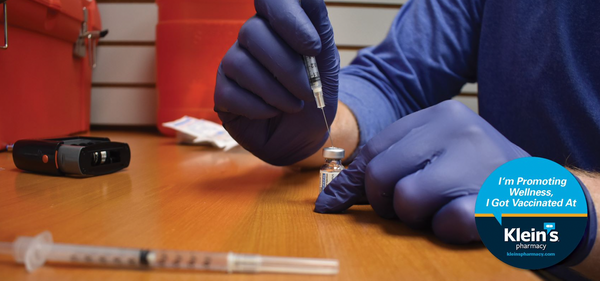 Vaccines are instrumental in managing the public health and general wellbeing of a community. Thanks to vaccines and immunizations, diseases such as polio, measles, and rubella have all been nearly eliminated in the United States, and smallpox eradicated worldwide.
Klein's Pharmacy believes in the power of vaccines. Our pharmacists are specially trained to administer vaccines and our pharmacy provides a private, safe, and sterile environment.
We also provide on-site clinic services – contact the pharmacy at 330-929-9183 for more information and to set up a clinic!
We administer the following vaccines:
Covid-19 Vaccine and boosters
The Flu Shot (Flucelvax, Fluad High Dose)

Eligible for people 9 years or older or ages 7-8 with prescription
High-dose vaccine available for those age 65+
All vaccines are egg-free

Shingles (Shingrix)

Eligible for people 50 years or older (and those age 18 and older with weakened immune systems)
Two doses two to six months apart
Pneumonia (Prevnar-20, Pneumovaxx-23)

Eligible for people 65 years or older and age 18-64 year-olds with underlying health conditions (diabetes, alcoholism, heart/liver/lung disease, kidney failure, cigarette smoking, cancer, weakened immune system)
Tetanus/Whooping cough (Boostrix)

Eligible for people 13 years or older
1 Dose every 10 years or for new parents, guardians, and relatives
Hepatitis A/B (Engerix-B, Vaqta, Twinrix) *

Eligible for people 13 years or older

Meningitis *

Eligible for students 13 to 18 years old and college students planning to live in dorms or apartments

HPV (Gardasil-9)*

Eligible for those ages 13 and up
*Call store to check availability
Vaccines are an incredible way to safeguard yourself from disease and illness. Call the pharmacy at (330) 929-9183 with any questions, click here to schedule an appointment or walk in today! Let's talk!