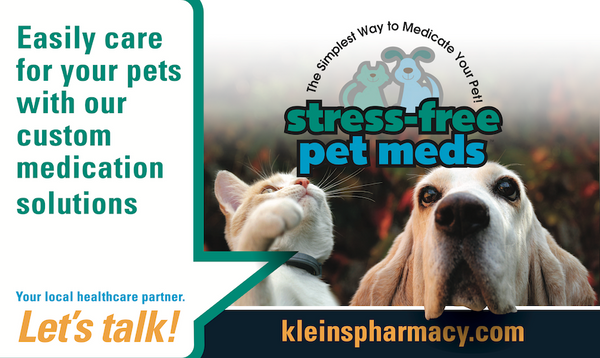 Getting medication into your pet used to be difficult and stressful.Fortunately, those days are over!
Stress-Free Pet Meds™ eliminate the need for using needles, bad-tasting medicines and tablet splitters. Now, you can simply rub a gel into the skin of your pet or they can lick it off your finger. This form of ingestion is more accurate, lessens unnecessary stress on your pet, and the medicine is easily adjustable based on your pet's reaction.
This product is produced and sold by Klein's Pharmacy, which boasts more than three decades of experience in producing custom compounds, the technical name for these types of medications.
Stress-Free Pet Meds™ provides a cost-effective method to mitigate pain, treat diabetes, control seizures, offset depression, and to lower blood pressure.
A VARIETY OF WAYS TO MEDICATE YOUR PET
Edible "treats" in a wide variety of flavors (dogs & cats love 'em!)
Eardrops that are easy to apply
Powders you can spray onto the skin
Creams you can rub into the skin
Another benefit to you and your pet is our ability to mix and customize medications. If your dog were to suffer a wound, we can mix antibiotics to fight infections, numbing agents to help relieve pain and anti-inflammatories to reduce swelling.
We will personally follow-up with you to get your feedback on the changes or improvements you are seeing with your pet. We then pass along your information to your veterinarian, and—together—make decisions about your pet's treatment.
Many of our pharmacists are pet owners, just like you! Our love for animals fuels our passion and dedication to all of our customers who request Stress-Free Pet Meds!
Contact us today to learn more, and please let your veterinarian know that you want the best for your loved ones; you want Stress-Free Pet Meds!™